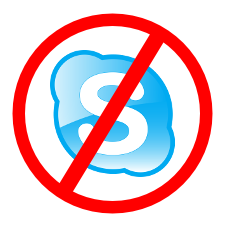 If you want to understand what Skype actually is, it might help to picture an almighty telephone and mail company. This company can not only spy on your private conversations and has total control over them, but it also forces you to use it. It owns the telephone lines and all mail transportation and does not let other companies use them. At the same time, you are bound to only use their telephone and mailboxes. Despite of these facts, more and more people are using Skype and even begin using the word "to skype" as a general term for talking and chatting over the internet.
Concentrating a lot of power in one single uncontrolled entity always leads to abuse of those powers, and Skype is not an exception. The following ten arguments should convince everybody to boycott Skype once and for all.
1. Skype Gets Around Your Firewall
It has been found out that Skype uses cracker techniques to circumvent your firewall. There may be security problems introduced by the holes Skype punches in your firewalls. If you are an administrator of a network for instance, you may have a hard time keeping it secure and Skype out of it.
Update: It has correctly been pointed out that many other programs also use this technique and that it might be legitimate behavior.
2. Skype Uses DRM
Digital Restrictions Management (DRM) is used to put restrictions on the users of technologies. These restrictions control what you can and cannot do with your computer and your files. The feature Extras Gallery of Skype uses this DRM and accesses confidential data which identifies your computer for this purpose. Skype is also helping developers to employ DRM. This alone is already a good reason to boycott Skype.
3. Skype May Slow Down Your Internet Connection
More and more universities are trying to ban Skype because it can become a so-called "supernode" and relay traffic from many Skype users over your computer. This way all your bandwidth will be eaten up which means that your computer and your internet connection will get really slow. Just by using Skype you agree to that policy in paragraph 4.1 of the Skype EULA.
You hereby acknowledge that the Skype Software may utilize the processor and bandwidth of the computer (or other applicable device) You are utilizing, for the limited purpose of facilitating the communication between Skype Software users.
4. Skype Prevents Competition
The hardware manufacturer Logitech conspired with Skype and gave users with non-Logitech products worse video-call quality. Another big company, Intel, cut a deal with Skype to provide advanced conference-calling features exclusively on PCs that run Intel chips without any technical reason. Its competitor AMD filed a lawsuit against Intel.
But Skype does not only provide "better service" for users that buy at certain companies. It also does not allow competition in its own field of telecommunication. There is no Skype for many mobile devices or for other operating systems like GNU/Linux on different computer architectures. And even for normal phone calls, you cannot use a different company. Thus, there is no competition, high prices and bad service.
5. Skype Restricts Our Communications
The Financial Times reported that Skype had admitted back in 2006 that it has been censoring text messages in China. If Skype is able to censor certain messages, it also knows the contents of the messages we send. Nobody knows what messages they are going to filter or archive next. This not only restricts our communications, but also raises substantial privacy issues.
As stated in paragraph 2.5 of the Skype EULA, they also can decide to exclude you from using Skype:
You acknowledge and agree that Skype, in its sole discretion, may modify or discontinue or suspend Your ability to use any version of the Skype Software, and/or disable any Skype Software You may already have accessed or installed without any notice to You, for the repair, improvement, and/or upgrade of the underlying technology or for any other justifiable reason, including but not limited to, circumstances where You, at Skype's discretion, are in breach of this Agreement
6. Skype is unreliable
The Skype service relies entirely on some secret peer to peer structure. This structure can cause severe problems up to failure of the entire service. That happened in August 2007 when Skype was unavailable to the majority of its users for approximately three days. The official Skype blog blamed the Windows Update Service and Washington Post quotes a Skype executive saying "that the problem was caused by a flaw in Skype's four-year-old software and that it was unclear why the problem had remained dormant until this week". Others speculated that Russian hackers might be responsible. The real cause of the outage was never revealed.
7. Skype is Insecure
Since Skype came into existence, multiple security vulnerabilities have been reported. In the beginning of the year 2008 the video chat feature had to be blocked completely in order to protect computer users. Many security holes enabled attackers to execute arbitrary code on the Skype user's computers, thus taking complete control over them. There are also many worms that dug their way through the Skype network and stole user passwords.
Of course, other programs have also security vulnerabilities, but Skype not only refuses to make independent security analysis possible, it even works hard to prevent such analyses (PDF). Recently there were a lot of speculations about a back door in Skype, because the Austrian government officials admitted it is easy for them to eavesdrop on Skype conversations.
Update: A Skype flaw revealed users' location, file-downloading habits.
8. Skype Locks You In
The company behind the Skype service does its very best to prevent other companies and interested individuals to understand how it works (PDF). Indeed, they want to keep the total control over the service and not having competitors which could offer better programs and devices. By doing so, they almost managed to establish a monopoly for modern telecommunication over the internet; if you have a monopoly, you can stop caring about your customers.
A discussion thread in the official Skype forum indicates that the Skype company blocked the accounts of many paying customers for no apparent reason. Another thread highlights, that most GNU/Linux Users are fed up with Skype, because Skype only released unstable beta software full of bugs for GNU/Linux. Unfortunately, most of them think that they still have to use Skype, because all of their friends are using it.
What Skype does to you is called vendor lock-in: they lock you into using their products only. You are limited to either using proprietary software phones or very expensive Skype hardware. Both give total control to Skype and prevent free communication. Therefore, it is time that people stop ask their friends to "skype" with them and stop using Skype themselves.
9. Skype Spies On You
Only a small error in the 64-bit version of Skype revealed that it has been reading our Computer's BIOS and Motherboard Serial Number. An analysis of researchers from Columbia University (PDF) has shown that Skype makes your computer contact a Skype server at least once after the program has started. It will submit your IP address and program version that can be used to personally identify you. Another analysis of Skype (PDF) demonstrates that it is using a lot of sophisticated techniques to conceal what it is really doing with your computer. Not knowing what a program does with the information it processes is a huge problem for privacy. There is no way to know if there is or if there will be a back-door in the program.
Skype has the keys to decrypt our calls and conversations. In October 2008 the New York Times reported that Skype had built a huge surveillance system in China that monitored and archived Internet text conversations sent by its users. They were searching for politically charged words related to Falun Gong, Taiwan independence, the Chinese Communist Party and milk powder. Texts containing these words were censored and sent to a central server where they were saved for further investigation by the censors. According to the New York Times, the server archived more than 166,000 censored messages from 44,000 users in two months and also recorded international conversations. Without the initiative of Canadian human-rights activists and computer security researchers nobody would have ever known about this.
Update: The revelations of NSA whistleblower Edward Snowen show that Skype is making "calls readily available to intelligence agencies and law enforcement":
A Skype executive denied last year in a blog post that recent changes in the way Skype operated were made at the behest of Microsoft to make snooping easier for law enforcement. It appears, however, that Skype figured out how to cooperate with the intelligence community before Microsoft took over the company, according to documents leaked by Edward J. Snowden, a former contractor for the N.S.A. One of the documents about the Prism program made public by Mr. Snowden says Skype joined Prism on Feb. 6, 2011.

Microsoft executives are no longer willing to affirm statements, made by Skype several years ago, that Skype calls could not be wiretapped. Frank X. Shaw, a Microsoft spokesman, declined to comment.
10. Skype Does Not Respect Your Freedom
If the program Skype would be Free Software it would respect your freedom as a user of technology. Then it could be democratically controlled by a user community that would have not let all these current issues of Skype arise in the first place. If a problem would arise, it would immediately be fixed because a user community acts for the greater good. This is something Skype is not doing. Skype is about maximizing profits without respecting user's rights. Free Software on the other hand is about first maximizing user's rights and then still allowing profit.
Because all Free Software has an "open source" code, it allows for independent security analysis and enables everybody to fix problems. If the software Skype would be Free Software, knowledgeable users could legally remove nasty "features" of Skype such as spying and censoring users. It would also be opened to competitors. The service would improve considerably and our privacy would finally be respected. So use one of the many Free Software alternatives to Skype!
Free Alternatives to Skype
Currently, the best alternative to Skyps is Jitsi.
There are also other services similar to Skype that are based on Open Standards such as SIP or XMPP. They just have to be used more widely. With them you can choose what telephone software you want to use. Wikipedia maintains a list of Free Software internet telephones.
This open nature enables competition and improves service. Hundreds of different companies are competing around the SIP standard of VoIP internet telephony. All of them offer gratis calls inside the internet and make money with very cheap calls to landlines and mobile phones. In many countries, you can even have a normal landline number connected to your computer's SIP phone and receive calls no matter where you are. Phone calls using these services are also a lot cheaper than with traditional phone companies and even Skype.
If you are just using Skype for chatting and not making voice calls, then you should switch to the free, standardized and decentralized Jabber Chat service. Many SIP programs also support Jabber. But there are also a lot of other good chat programs like Pidgin for GNU/Linux and Windows, and Adium for MacOS.
Give yourself a push, try one of the many alternatives to Skype. Tell all your Skype friends to change too and point them to this text. Then you can uninstall Skype and make your computer more secure. Enjoy chatting and talking to your friends in private without being censored and monitored.
Update: In response to some criticism in the comments, I wrote the follow-up article Brave New Skyping World Revisited.